Research Staff Profile: Guanlan Xu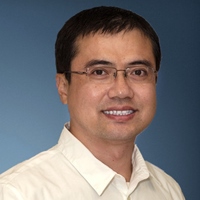 ---
►Where are you from originally, and where did you go to school?
China, Fudan University, Shanghai, China.
►What is your current position?
Instructor.
►Why did you decide to become a researcher?
Research is important to our society. Being a researcher also means relatively more freedom to me.
►What is the "Big Picture" of what you study?
Work on the mechanisms of pancreatic beta cell loss in diabetes, which will be eventually translated into clinical use in individuals with diabetes.
►What is your favorite aspect of your research?
Anything related to individuals with diabetes.
► What do you hope to achieve with your research?
Translate my lab findings into clinical use.
► What groups are you involved with?
American Diabetes Association & Human Islet Research Network
►When not in the lab what are your favorite hobbies/activities?
Basketball, music, watching sports on TV, playing with my children.