Investigator Profile: Sangeeta Dhawan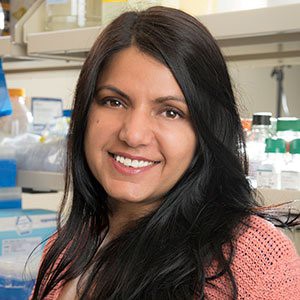 Diabetes and Metabolism Research Institute
---
►Where are you from originally, and where did you go to school?
I grew up in India in the city of Amritsar, a historical town in the northern part of country. I also had the opportunity to live in different parts of the country for my studies, which turned out to be a wonderful and very enriching experience. I did my Bachelors and Masters degrees in Biochemistry at the University of Delhi, in the capital city of New Delhi, India. I completed my PhD in molecular and developmental biology at the Indian Institute of Science, in the beautiful city of Bangalore, India.
►What is your current position?
I am an assistant professor with the Diabetes and Metabolism Research Institute at Beckman Research Institute, City of Hope.
►Why did you decide to become a researcher?

Growing up, I always had an interest in biological sciences and was particularly fascinated by how different cells communicate with each other and how they adapt to changes in their environment. During my undergraduate studies, this fascination grew into a deep interest in cell and developmental biology. The laboratory research projects I took up during my training fostered this interest and ultimately inspired me to pursue a research career.

►What is the "Big Picture" of what you study?

My laboratory focuses on understanding the epigenetic and cellular signaling pathways that regulate the formation, function, regeneration and survival of pancreatic beta cells during development, and under circumstances that warrant the repair/regeneration of beta cells.

► What is your favorite aspect of your research?

Understanding how cells change their behavior in response to changes in their environment.
► What do you hope to achieve with your research?
We hope to identify the mechanisms that determine functional beta cell mass and its adaptation to changing environment, and determine how these mechanisms are disrupted diabetes pathogenesis.
► What groups are you involved with? 

Network of Pancreatic Organ Donors (nPOD)
American Diabetes Association

►When not in the lab what are your favorite hobbies/activities?

Photography, reading, writing, and cooking.