Investigator Profile: Jing Hughes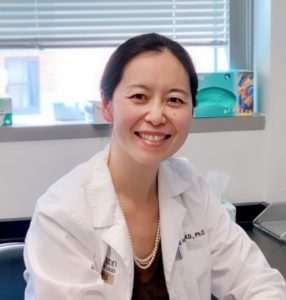 University of Washington School of Medicine in St. Louis
---
►Where are you from originally, and where did you go to school?
I grew up in China and moved to the U.S. in the 1990s. I attended Stanford University for undergrad and Penn for MD PhD, then Yale for my clinical training in Internal Medicine and Endocrinology. 
►What is your current position?
Assistant Professor in the Division of Endocrinology, Metabolism, and Lipid Research at Washington University.  
►Why did you decide to become a researcher?
I love creating new knowledge. As a physician-scientist, this means finding out about how our bodies work, in ways that re-write medical textbooks. 
►What is the "Big Picture" of what you study?
We are trying to understand islet cell crosstalk. Islets are complex mixtures of cells that communicate and inter-regulate. We study primary cilia which are cellular antennae that allow us to eavesdrop on the cells to see what messages they are sending and receiving from each other. 
►What is your favorite aspect of your research?
We love finding new ways to do science. Cilia research is the perfect topic to unite all my interests – microscopy, physiology, molecular biology. It is a beautiful structure to image, and cilia biology is fascinating.
► What do you hope to achieve with your research?
We want to learn: 1) What functions do primary cilia have in islet cells? 2) How do cilia defects lead to human diabetes? 3) What other pancreatic diseases affect primary cilia? 
► What groups are you involved with?

Investigator, The Integrated Islet Distribution Proram (IIDP) investigator, Diabetes Research Connection Washington University Diabetes Research Center Awardee, The Doris Duke Foundation Awardee, Endocrine Fellows Foundation.

►When not in the lab what are your favorite hobbies/activities?

Teaching my three kids to love classical music, food, and photography, so that parenting is increasingly about what I love to do.  

►Anything additional you would like to share with the group?

Among my awards, I am most proud of my 2018 "Excellence in Teaching Award" from Washington University Division of Endocrinology in recognition for innovative teaching.